Here's another gif of my colouring process...
I've been trying to learn Photoshop by trial and error... mostly error.
I had been using a free image editing software called GIMP because---well---it's free and I couldn't afford Photoshop. But GIMP doesn't have some features I needed for a big project that I just completed (that they want me to keep under wraps until it's released). And now you can't even BUY Photoshop anymore, you have to RENT it, which actually works out better for me.
Now I just have to get 'Photoshop for Dummies' or something...plus save up for one of those drawing tablets and stylist so that I can stop doing these things with a mouse, which is like drawing with a bar of soap.
...and don't forget that Austin is coming up fast and hope to see some of you there...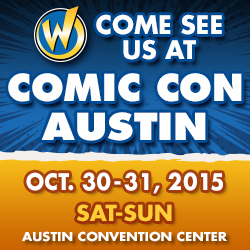 (...yes I mean you, Jake.)